SFC Analytique, SFC Semi prep, SFC  Hybride et SFC préparative
La chromatographie supercritique plus écologique que l'HPLC.
L'utilisation de la chromatographie en phase liquide supercritique est une alternative écologique à l'HPLC  ou la fast LC classique, le CO2 prenant la place du solvant organique comme phase mobile.
La chromatographie CO2 supercritique présente des avantages en termes de coût, de santé et de sécurité, ainsi qu'une séparation plus rapide et plus propre des échantillons.
Des séparations plus rapides et plus efficaces
Parmi les autres avantages des fluides supercritiques, on peut citer la faible viscosité avec des densités de type liquide, une solubilité plus élevée et une charge de colonne accrue. Ainsi la faible viscosité et la forte diffusion permettent des séparations et des extractions 3 à 10 fois plus rapides qu'en chromatographie liquide à granulométrie équivalente.
De plus la faible viscosité permet l'utilisation de colonnes de faibles granulométrie et de grande longueur sans perte de charge importante, ce qui permet de réaliser des séparations de très haute efficacité.  
La SFC est particulièrement efficace pour les séparation chirales.
La chromatographie SFC a longtemps été la méthode de choix pour les séparations chirales. D'ailleurs JASCO propose  un détecteur chiral de dichroïsme circulaire unique sur le marché compatible SFC.
Un large éventail de phases de colonnes sont disponibles et peuvent etre utilisée en SFC.
C'est pourquoi la chromatographie supercritique devient maintenant un outil puissant pour les séparations achirales, à la fois au niveau analytique et pour la purification préparative d'échantillons.
La chromatographie supercritique fonctionne dan tous les modes.
Les utilisations modernes du CO2 comme solvant principal pour les séparations chromatographiques en mode supercritique ou subcritique avec des colonnes phase inverse apportent un nouveau souffle à cette technique qui dispose de nombreux avantages par rapport à la chromatographie liquide traditionnelle.
Les caractéristiques physiques du fluide supercritique comprennent un coefficient de diffusion des molécules dissoutes cent fois supérieur à celui d'un liquide et une viscosité inférieure d'au moins un chiffre. Un système de chromatographie en phase liquide supercritique qui utilise un tel milieu peut servir de méthode d'analyse et de séparation rapide sans perte d'efficacité, même à des débits rapides, grâce à un transfert de masse rapide. dans la colonne par rapport à la chromatographie en phase liquide à haute vitesse qui utilise un liquide comme phase mobile.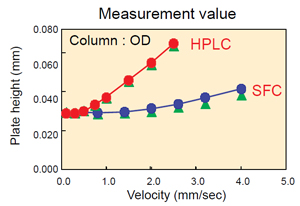 En outre, lorsque le dioxyde de carbone est utilisé comme milieu, la gazéification se produit simplement en maintenant l'échantillon séparé et fractionné à une température constante, ce qui en fait l'une des techniques permettant des purifications très efficaces avec peu de complications post-traitement, tels que l'élimination des solvants après isolement préparatif. Cela offre une foule d'avantages, notamment des économies de coûts liées aux dépenses liées à l'achat de solvants et à l'élimination des solvants organiques, ainsi qu'une analyse à haut débit et une isolation préparative économique.
La SFC peut faire varier au moins trois paramètres : pression, température et concentration ou composition du solvant modificateur.
Les avantages des systèmes SFC JASCO
Optimisés
JASCO développe des systèmes SFC et SFE à colonnes garnies depuis plus de 38 ans. cette évolution a abouti à une série SFC-4000 conviviale, robuste et puissante.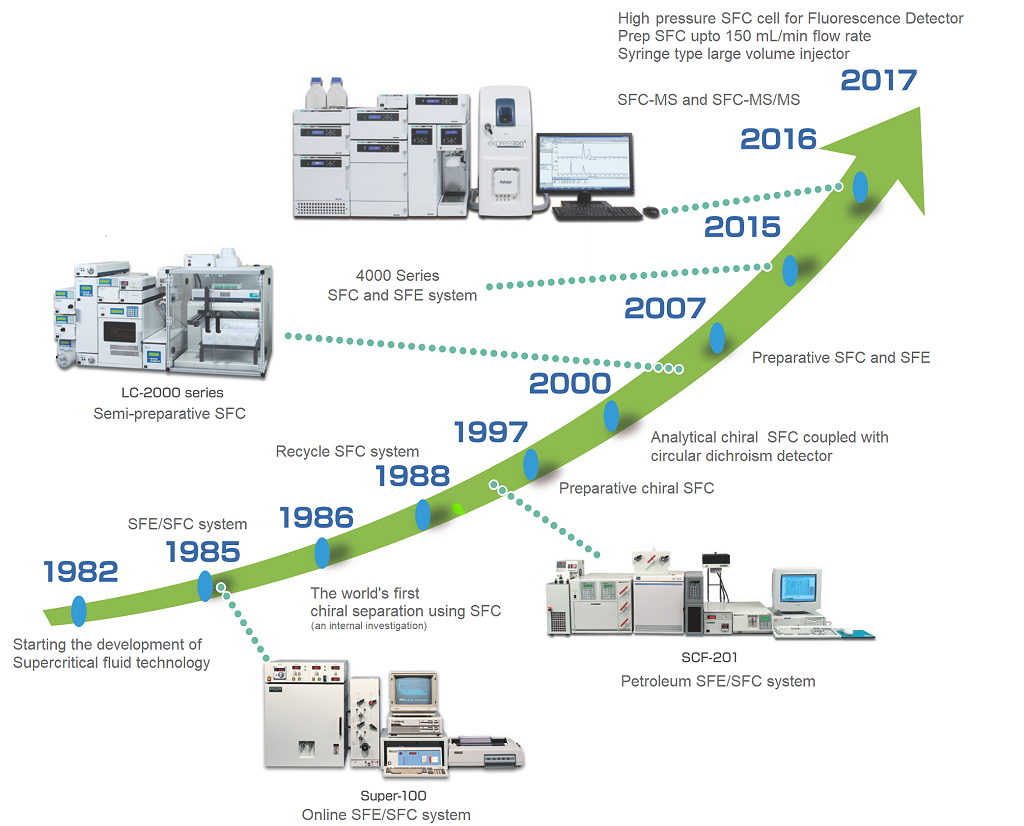 Un régulateur de pression automatique à réponse rapide et faible volume mort ( BPR)
Le régulateur de contre-pression dynamique haute vitesse chauffé BP-4340 assure une contre-pression précise et constante quel que soit le débit et pratiquement sans pulsations. Le volume mort extrêmement faible empêche les fractions de se mélanger et d'accumuler des précipités dans le circuit de collection des fractions.
Une large gamme de détecteurs
Fluorescence (le seul détecteur fluo compatible SFC sur le marché), UV-visible, détecteur PDA haute fréquence et haute résolution et le détecteur chiral de dichroïsme circulaire unique sur le marché. D'autres détecteur sont disponibles FID, diffusion de lumière DEDL, MS simple-quad.
Find out more about the detectors here
Flexible
Tous les systèmes de chromatgraphie SFC SF-4000 peuvent etre également utilisé pour l'HPLC classique
Il suffit simplement d'éteindre le refroidissement de la pompe et de désactiver la régulation de pression du BPR pour fonctionner l'utiliser comme une HPLC.
Integrated Modular System
A basic system for each scale can be adapted to suit any application. From modifier selection to column heater type to detector combinations.
Compatible
JASCO SFC systems are compatible with most Mass Spectrometers and offer integrated control with both Advion CMS and Sciex Analyst.
Flexible Configurations
The three individual platforms for analytical, semi-prep and preparative scales can be customized to suit all applications.
Analytical to Semi-preparative Flow Rates
Using columns from 4.6 to 10 mm ID, the SP-4000 Semi-Preparative SFC System can be used for separation and purification up to several 100 mg per day of sample material.
Typical Purification range
Analytical and semi-preparative flow rates from 1mL/min to 20mL/min for purification of samples up to 100s of mg
Optional Modifier Pumps
Optional two flow rate scale modifier pumps for fine tuning modifier composition.
Column Switching
Six or ten column switching for automatic selection for method development.
Solvent Switching
Six or ten modifier solvent selection for method development.
High-Capacity Column Oven
High capacity column oven for up to 6 x 10mm columns, with an option for use of 3 column ovens for even greater flexibility.
High Recovery Rate
Patented individual MCS MicroCyclone fraction collection system for sample collection without cross contamination.
Powerful Software Options
Two software options include ChromNav and SF-Nav for simple control with powerful fractionation algorithms
Wide Range of Detectors
Wide range of detectors including UV-Visible, PDA, Mass Spec, ELSD,  FID and Circular Dichroism. And for applications requiring the utmost sensitivity, JASCO has designed the first high pressure flow cell designed for our fluorescence detectors making them compatible with SFC.
High-Throughput Fraction Collection System
Fraction collection with 8 fraction valve or open bed fraction collector.
Dynamic Back Pressure Regulator
Patented dynamic back pressure regulator for accurate control of pressure for accurate and reproducible separations.
Supercritical Fluid Extraction (SFE) Systems
Supercritical Fluid Extraction (SFE) typically uses supercritical carbon dioxide as the extraction solvent of choice as it has many advantages. Extraction using supercritical CO2 has the benefit of high matrix penetration and low viscosity at relatively low temperatures and in the absence of oxygen, this is important for compunds that may be heat labile or easily oxidized. SFE offers short extraction times and require little or no organic solvent compared with other extraction techniques.
Applications for SFE include the extraction of active ingredients, including various flavors and medicinal constituents from natural product e.g. docosahexaenoic acid (DHA), advanced unsaturated fatty acids and fatty esters such as eicosapentaenoic acid (EPA), fat-soluble vitamins and pharmaceuticals. Other applications include the elimination of unwanted constituents, such as decaffeination and desolvation in pharmaceutical tablets. It can also be applied to the pre-processing of samples prior to separation using HPLC or GC.
Supercritical Fluid Extraction System – Configuration
This system comprises a supercritical carbon dioxide pump, a modifier co-solvent pump, extraction vessel, and an automatic back pressure regulation valve. We offer a wide variety of extraction vessels in a range of different sizes and they can either be a column or cup type, depending on the physical state of the extraction sample. Extraction parameters include solvent volume, pressure, temperature and co-solvent ratio all of which can be adjusted to suit the application for optimal extraction yields.
Residual Pesticide Extraction Systems
SFE is an excellent technique for analyzing trace pesticides in soil and on food products. Residual pesticide extraction systems that use supercritical carbon dioxide are extremely versatile. JASCO has several SFC systems dedicated to residual pesticide extraction.
Extraction vessel sizes : 10 mL or 50 mL
Simple patented 'Fasten Lock' attachment offers simple loading and removal for both sizes of vessel
One to six vessels can be batch processed
Processing method for multiple samples. Continuous processing (serial) is offered as standard. Parallel processing is supplied as an option
System 1
System 2
System 3
System 4
System 5
System Features
Full-automatic

High-throughput

2 flow lines with parallel processing

Full-automatic

Single flow line

Full-automatic

Single flow line

Manual

2 flow lines

with parallel processing

Manual

2 flow lines

with parallel processing

CO2 flow rate
Max. 20 mL/min
Max. 20 mL/min
Max. 10 mL/min
Max. 20 mL/min
Max. 10 mL/min
Operating pressure
Max. 30 MPa
Max. 30 MPa
Max. 30 MPa
Max. 30 MPa
Max. 30 MPa
Extraction temp.
Ambient + 10ºC to 80ºC
Ambient + 10ºC to 80ºC
Ambient + 10ºC to 80ºC
Ambient + 10ºC to 80ºC
Ambient + 10ºC to 80ºC
Extraction vessel
50 mL
50 mL
10 mL
50 mL
10 mL
Vessel handling
Fasten Lock
Fasten Lock
Tubing and connectors
Fasten Lock
Tubing and connectors
Sample number
6
6
6
2
2
Collection method
Trap column
Trap column
Trap column
Trap column
Trap column
Features
Simple operation
Quick extraction – about 30 to 60 minutes per sample, which is one-third to one-forth the processing time of conventional techniques
Eliminates trace pesticides – the extract is collected in a trap column
Minimal extract cleanup – also roughly separates impurities in trap column
Blockages and contamination are minimized – the trap column and piping is washed each tim
Low running costs – carbon dioxide is highly pure and inexpensive
The system is safe and environmentally friendly because carbon dioxide is non-toxic and nonflammable
Flexibility
Capacity of extraction vessels: 10 mL or 50 mL. The 10 mL vessel is ideal if operability is the focus. The 50 mL vessel is a better selection if the focus is on sample processing volume or analysis sensitivity
The 50 mL vessel offers simple one-touch attachment and removal
One to six vessels can be processed at a time. JASCO offers the single vessel type or the six-vessel type depending on the frequency of samples being measured
PR-4088 Prep SFC Features
Fast CO2 Delivery
Preparative scale CO2 delivery of up to 150mL/min, or up to 200mL when combined with a modifier co-solvent.
Maximum Sample Preparation
Using columns from 10 to 30 mm ID, the PR-4088 Prep System can be used for separation and purification from 100mg to 100g per day of sample material.
Sample separation for Chiral & Achiral
PR-4088 Prep System is excellent for both Chiral and Achiral sample preparation.
Powerful SFC Management Tool
Using SF-Nav software the PR-4088 Prep can be used with a wide variety of fraction collection methods, including time window, slope and/or threshold, to achieve high throughput stack injection.
Complete Audit trail to monitor campaigns
SF-NAV controls your campaign; monitor the individual chromatograms, complete sets of stacked injections, pressure and temperature profiles throughout the system.
High-Throughput Sample
Several fraction collection regimes for use with larger sample bottles for larger scale purification.
Accurate Chromatography with Large Volume Injections
PR-4088 uses the Patented DLI (Dual Line Injection) to ensure excellent chromatography when making large volume injections.
8 Fraction Sample Collection Unit
The PR-4088 fraction collection unit includes the patented dynamic back pressure regulator, 8 individual heated cyclone separators with a separate waste line. Fraction control allow sequential or stacked injection, with the option to collect the fractions between peaks to ensure there is no sample loss. Recoveries are typically in the region 95% or better with negligible cross contamination between fractions.
Widest Range of Detection Schemes
The PR-4088 SFC System can be used with a single detector or combination of detectors to control fractionation, including Mass Spec, UV-Vis, PDA and chiral (Circular Dichroism). And for applications requiring the utmost sensitivity, JASCO has designed the first high pressure flow cell designed for our fluorescence detectors making them compatible with SFC.